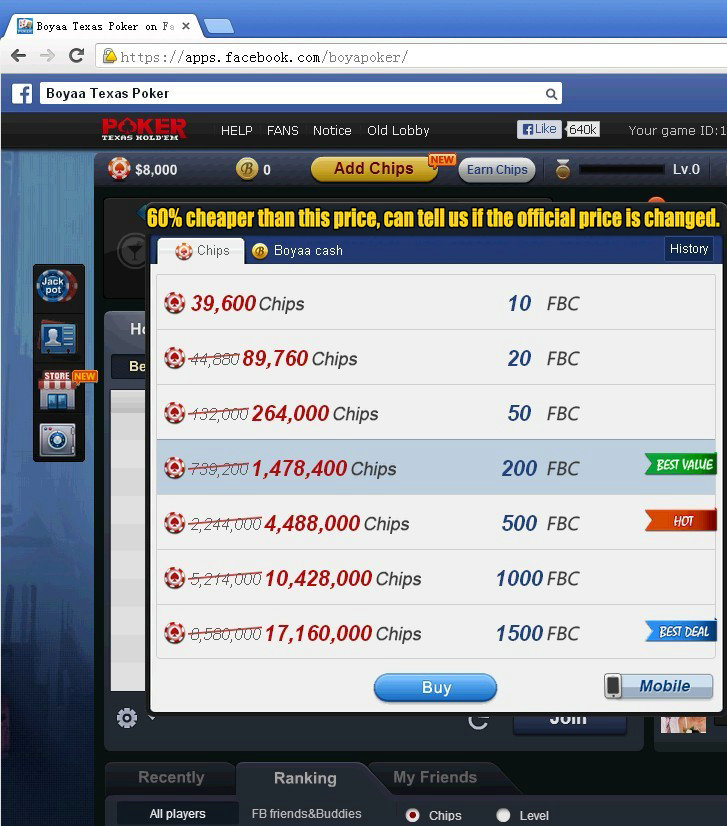 The trade ways of Boyaa Texas Poker Chips :
one: Face to face trading Boyaa Texas Poker Chips in the game?
1: we will invite you as our friend in the facebook.Please click the "accept" when you see a invitation of adding friend at the right of your facebook,then contact us to make sure the friendship is formed.If it done, We could follow each other in the any rooms.It is easy to transfer!
2: we could see each other in the room.Then you enter a multiple of the maximum you can enter the room which must be empty.We will folow you into this room.please sit down when we get into the room.we will sit down at once. And we will lose the chips to you!
3: the method of transfering: from the second porker,you bet your chips form 60% to 80%.we will follow you.plz choose "all in" when the third porker is coming,then we will fold.and again and again until the order completes.
4: you couldn`t find out a empty room if you get the empty room and full room hidden. please click the bottom under the game canel the hidden is ok.
two: You just tell us your account and password of facebook,then we will log into your account to top up Boyaa Texas Poker Chips .
three: we will give you an order of your chips with the account and password,you can try to transfer the chips into your account, you can so like this way: you can open a browser with 2 windows,then you can enter a room to lose the chip from the account we give u to your account,also you can ask help from your friends.
Because we're on your account in different land and IP ,Facebook game will restrict us :Security Alert!we must recognise pictures of friends or answer questions or birthday .please tell us the answer if you set Security Question.If you would like to set a Security Question,plz do it just like following procedure :
1.Enter the www.facebook.com
2.Click "Account"on the top of the site and choose 'Account Settings "to set Security Question
3.Tell the answer of Security Question,then we can go through Security Question into your account to help you top up
Announcements:Please change your password and password protection rapidly after topping up .
Our company has been selling the game on facebook about 3 years ,which has more than 300,000 customers.It is impossible for us to capture a little profit to undermine the credibility of our company,so you do not have to worry about what you give us your account and password .